"FAMILY PORTRAITZ"
is based on photos of my actual family and friends, is an exploration of character, beauty, and love. What should be familiar and cozy becomes estranged through the artistic process, which includes digital painting, image manipulation, and unique printout and mounting techniques.

With this series I wanted to return to more fundamental place and start the work at the photographic level. By starting with everyday digital photographs of family and friends like those taken by millions everyday, I could connect with a sense of home, family, and relationship.

From there, I used image manipulation techniques and digital painting to alter angles and introduce a new, bright color palette. While the essential photos remain, the portraits take on a creepy, almost ugly feel, suddenly pulling our traditional view of the family photo and family relationships into question. The final pieces evoke a sense of estrangement and distance from the loved one - a carnival-like echo of a familial love.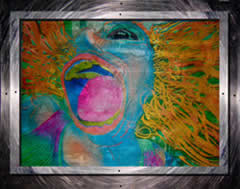 Specifications:
18 1-of-1 Original Portraits, Finished size: 29" x 36" each Digital photography with image manipulation, digital painting, and traditional archival mediums. I used Arches 88 watercolor paper coated with molding paste, luminescent acrylics, and rabbit skin glue to bring dimension and texture to the work. I then printed the manipulated images onto the treated surfaces and coated them with a UV Archival Varnish. They are mounted onto brushed aluminum with acid free mounting materials and are housed under UV Plexiglass.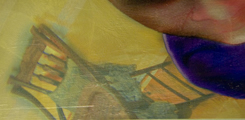 Close up of Textured
Surface of Print